The kitchen is the heart of the home and a place where people come together to share meals, stories, and laughter. This year, people are looking for ways to update and remodel their kitchens to make them more comfortable and inviting. Those looking to refresh their space will bring a mix of modern and vintage styles in everything from lighting fixtures to countertop materials. We've rounded up just a few of the top kitchen trends for 2023 to keep your eyes on to create a space that is both functional and aesthetically pleasing.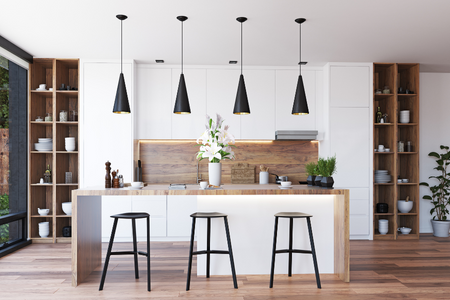 Embracing Sustainability
Kitchen design in 2023 will embrace more eco-friendly and sustainable materials. This includes utilizing recycled materials, upcycled furniture, energy-efficient appliances, and water-saving fixtures. Furthermore, natural elements such as wood and stone will be used to give the kitchen a cozy and inviting feel while still being environmentally conscious.
High-Tech Kitchens
Technology is advancing at a rapid rate and the kitchen is no exception. The latest trend in 2023 will be to integrate smart technology into kitchens, including automated appliances, voice command technologies, and even AI-powered cooking assistants. This will make cooking faster and more efficient while also allowing for greater customization of menu options.
Smarter Storage Solutions
Kitchen design in 2023 will focus on efficient storage solutions designed to make the most of limited space. This includes incorporating innovative shelving and cabinetry designs, making use of corner space, and utilizing wall organizers for utensils. Additionally, open shelving concepts are gaining in popularity as they provide a modern yet cozy feel to the kitchen.
More Woodsy Elements
Mentioned above, wood is a classic choice for kitchen design, but this year it will become even more popular. Natural wood elements such as butcher blocks and wooden cabinetry will be used to add warmth and texture to the space. Furthermore, reclaimed and upcycled wood pieces can be used to give the kitchen an eco-friendly edge.
Subdued Colors
Muted colors such as neutrals, pastels, and earth tones will be the go-to choice for kitchen design in 2023. These colors are subtle yet calming, creating a peaceful atmosphere that is perfect for spending time with family or friends. Additionally, these colors can easily be combined with brighter accent colors to add visual interest to the space.
AI-Generated Spaces
AI-generated spaces are quickly becoming a popular trend in interior design, offering homeowners a unique way to customize their kitchens. As technology advances and AI becomes more powerful, it is being used to create customized interiors that reflect the personal tastes of the homeowner. AI considers the size and shape of the kitchen and then creates a design based on the homeowner's desired style.
Funky Backsplashes and Wallpapers
Backsplashes and wallpapers are becoming increasingly popular for kitchen design in 2023. Bold patterns and colorful prints can be used to add a unique touch to the space while also providing an easy way to update the look of a room without having to completely redo it. Alternatively, metal backsplashes are also gaining traction as they give a modern, industrial look to the kitchen.
Dynamic Lighting
Lighting is an important factor in any kitchen, and this year will bring a mix of classic and modern lighting fixtures. Incorporate contemporary fixtures such as pendant lights and chandeliers for a modern feel or go for vintage-inspired options like wall sconces or industrial-style lamps to give the kitchen a cozy, homey vibe.
Embracing Individual Quirks
In the past, there seemed to be a herd mentality that advised homeowners to leave their individual expressions in the past to stay on trend. Now, homeowners are encouraged to make their kitchen a reflection of themselves. Homeowners are free to express individuality through eclectic design choices and by incorporating details that reflect their personal style. This is right on-par with an overall trend to do more of what makes you happy in 2023.
Comfort
Normally, comfort isn't the word to be associated with kitchens – maybe a bedroom or a living room – but rarely kitchens. However, there's a greater demand for making the entire home cozy, including the kitchen. Whether that be through ergonomic furniture design, softer textures, or even more inviting colors and fabrics, the kitchen is a space where people spend a lot of time- so it should be enjoyable. Comfort is key in 2023 when it comes to kitchens. In the same vein, eat-in kitchens are also seeing an uptick in popularity with more people wanting to create an easy social space for hosting.
Final Thoughts
Overall, these trends create a space that incorporates style with comfort while being conscious of the environment. Homeowners will be able to create a kitchen that reflects their individual personalities while still staying on trend for the year. With these trends, the possibilities for creating a unique and inviting kitchen in 2023 are endless!